澳洲5最新开奖结果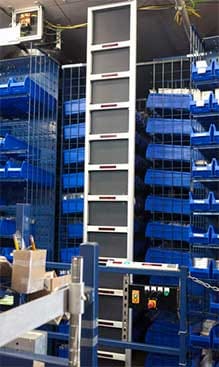 With pick to light carousel control systems, the carousels operate by bringing stored items or materials to the picking operator rather than the picking operator going to the product location to retrieve the stock or materials. However, in addition to bringing the product front and center, light displays mark the carousel and shelf level to indicate exactly where the product is located. Depending on the size of your fulfillment operation and supply chain management, these carousel systems can pay for themselves in as little as three months time.
ASRS Systems
Automated storage and retrieval systems are designed to automate the task of storing and retrieving parts, components and products held in a user's inventory and consist of a variety of computer control systems for placing and retrieving loads from defined storage locations.
After an item is picked, the automated storage and retrieval systems software will direct the picking carts to deposit the item at a product location where it is to be picked for order fulfillment and completion. A system of conveyors, totes, shelving and/or automated guided vehicles are often part of an ASRS system. Conveyor systems often transport containers used for order batch picking into and out of the carousel storage area and move them to the manufacturing floor, loading dock equipment or whatever stage is to follow in the users order fulfillment system process.
The benefits of an AS/RS system include increased productivity and accuracy, reduced labor for transporting items into and out of inventory, reduced inventory levels, more accurate tracking of inventory and space savings. Items are often stored more densely than in systems where items are stored and retrieved manually.
Industries that use ASRS control systems in their operations include manufacturing, distribution centers, fulfillment operations, retail distribution and wholesale, as well as our military and other government institutions.
As early as 1960, ASRS systems mainly focused on the automated storage and retrieval of heavy pallet loads. With the evolution of warehouse management technology, ASRS systems are now capable of storing and retrieving a wide variety of items, both large and small.
With ASRS systems, storage allocations operate under computerized control systems, maintaining an inventory of stored items. Retrieval of items is accomplished by specifying the item to be retrieved and the quantity desired. The warehouse systems computer determines where the item is located within the system and schedules the retrieval of that item. It does this by also determining and defining the shortest and quickest way to route and retrieve the item to be picked.
The material handling systems equipment required for an ASRS system include a Storage and Retrieval Machine (SRM) such as vertical or horizontal carousels that are used for rapid storage and retrieval of material. SRMs are used to move loads vertically or horizontally, and can also move laterally to place objects in the correct storage location. Warehouse Management System (WMS) software is the brains behind the system and controls the picktolight technology picking system.
The trend toward "Just In Time" (JIT) production often requires sub-pallet level availability of production inputs, and AS/RS is a much faster way of organizing the storage of smaller items next to production lines.
SJF has installed hundreds of these ASRS systems, both new and used. Call us today to see what a pick to light carousel system can do for your business.